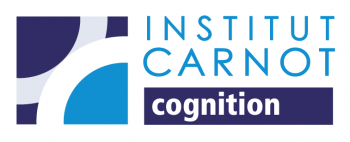 The Institut Cognition offers a one-stop shop in bilateral research in cognition to provide competitive innovation solutions for companies in a multidisciplinary approach.
Cognitive technologies increase the added value of products and services in an increasingly personalised context of use: taking into account the user, his environment and the modes of interaction that are at stake. They integrate the factors that result from knowledge about cognitive functions and human behaviour: EMOTION - PERCEPTION - ATTENTION - MEMORY - MEMORY - DECISION - REASONING - LANGUAGE - VISION - STRESS - DEVELOPMENT - HEARING – TOUCHING
Key figures
Fermer
Key figures
| | |
| --- | --- |
| Permanent staff (full-time equivalent) | 1063 |
| PhD Students | 732 |
| Global budget | 127,8 M€ |
| Partnership incomes with industry | 13,7 M€ |
Parent institutions
Fermer
Parent institutions
---
Présentation
Bring people into your technologies to increase your company's potential for innovation
The Cognition Institute's 4 main areas of R&D activities:
Cognitive enhancement technologies: Increasing cognitive capacities (improvement, assistance, remediation, substitution) through integrative multidisciplinary approaches (psychophysics, neurophysiology, imagery, computational models, virtual realities).
Cognitive behavioural assessments: Using the methods and tools of neuroscience, psychology and ergonomics to assess systems and devices and characterise their acceptability and uses (natural interaction, VR/RA, design and creation, MMI, post-wimp for MMI, cognitive state of the user, etc.).
Collective cognition: Study natural and artificial interactions in different contexts (emotional, cultural...) in order to understand the underlying processes (social cognition, emotional regulation in individual and social contexts, stereotypes, human-human/animal/virtual agents/robots interactions).
Cognition & language: Taking into account linguistic cognitive processes in automatic language processing systems (speech, language and languages, learning, multimodality, gesturality, multilingualism, assisted translation, affects, language and speaker identification, conversational agents).
Artificial Intelligence, coupled with Natural Intelligence, is transverse to these 4 main areas of R&D.
The economic sectors:
IT, media and telecommunications
Health, e-health and autonomy
Leisure & sports, education and training, e-commerce, home automation
Transport
The main equipment or platforms:
Platform for the design and testing of innovative man-machine interfaces and RV-RA
Cognitive physiology platform for human monitoring
Platform for the study of the use of interactive systems in specific and intelligent environments.
Platform for the simulation of social and collective cognition scenarios
Platform for the study of neur-inspired and augmented systems
The Cognition Institute's research units
Its research units: IJN, LSCP, LSP, CHArt, EnsadLab, Centre BORELLI, LaPEA, COSTECH, LIMSI, SCALab, LEAD, GIPSA Lab, LIG, LPNC, LIA, LPC, LPL, LNC, IMS, IRIT, CRCA and CeRCA