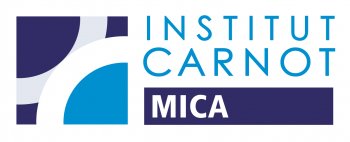 The Institute Carnot MICA is a specialist in functional materials, surface-interfaces, and related processes, with 18 research laboratories, technological resource centres and industrial technical centres throughout the country.
Key figures
Fermer
Key figures
| | |
| --- | --- |
| Permanent staff (full-time equivalent) | 600 |
| PhD Students | 350 |
| Global budget | 70 M€ |
| Partnership incomes with industry | 15,3 M€ |
| Business figure | 11,5 M€ |
Parent institutions
Fermer
Parent institutions
---
Présentation
A leader in innovative materials with a comprehensive and unique offer for manufacturers
Our comprehensive offer across the entire value chain
MICA assists companies throughout the R&D process through its unique, comprehensive offer:
Materials, surfaces and interfaces and related processes
Multidimensional analysis
Durability and performance
Technology transfer
For a wide range of materials: polymers, oxides, ceramics, carbons, biomasses, metals, molecules/cells, powders, thin films, foams, fibers and textiles, composites, porous materials and 3D and 4D objects.
Target markets
Automotive, aerospace, aviation, water sports
Fashion and luxury
Energy
Environment
Sports and wellness
Industry 4.0
Economical and sustainable construction
Health and cosmetics
Our job: to assist you with your R&D projects
MICA will assist you throughout your innovation and tranformation project by offering customised solutions:
R&D partnership contracts
Services
Expertise and advice
Higher and continuing education
Technology transfer
Working with MICA means you have privileged access to:
Cutting-edge scientific innovations and technology
International experts who are specialised in materials
State-of-the-art equipment
ISO 9001-certified project management
Our unique skills:
Surface functionalisation for the creation of functional materials
Creation of 3D and 4D objects throughout the entire value chain
Active and intelligent materials to react and adapt to the environment
Lightweight, robust structures: composites, textiles and foams
Multidimensional analysis and metrology
Eco-innovation, materials and processes that are environmentally friendly
3 cutting edge technology platforms for you industrialists
IGI-Tech: for the development of non-standardised tailor-made implantable medical devices.
MICASOL: for the characterisation of materials by X-analysis from the molecular to macroscopic scales through access to the Soleil Synchrotron.
ISI-Composites: Innovative surfaces and interfaces in composites.
Our technical resources, which are available to manufacturers:
Technical platforms: development, analysis, performance testing, prototyping
Testing platforms with real-world conditions
State-of-the-art equipment in a unique set-up
Highly skilled dedicated staff
11 platforms that already have ISO 9001 certification (51 facilities)
Long-term industrial partnerships, industrial expertise
More than 900 partner companies per year
More than 1,100 industrial contracts per year
More than 40 patents per year
1 ISO 9001 certification